There's no hiding the fact that I'm a massive fan, but my absence from the country has meant I haven't been keeping up with all the latest expansions (and Stuff Packs!) for both The Sims 3 and The Sims Medieval. So here's my quite extensive Sims Wishlist!
Sims 3
I've already pre-ordered Pets as that isn't out just yet, but I've still to buy all the others!! :)
Sims Medieval
This game is really great, it's a totally different take on the Sims and it's the sort you can play in short bursts, which is fab when I have a Sims craving and I don't want to spend hours and hours getting sucked into the game like I do with Sims 3!
Pirates and Nobles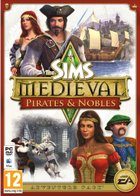 Any other Sims 3 lovers out there?