Hello m'dears! What a fab week it's turning out to be. The weather has been beautiful and things are coming along nicely here with the packing and cleaning. I've been getting back to doing my regular duties as treasurer of St AndRe-Use, we've been very busy collecting lots of donations from students who are graduating this year and have lots of stuff they need to get rid of. Only a few more days and I'll be back home and then I'll be counting down the days til I fly!
I've obviously had lots of time to catch up on blogging too - so this weeks LinkLove goes to...
Plisherrific
is a really great nail blog and since I haven't awarded a nail blog in a little while I thought this was a great time. Tidying up has meant that I've been sorting through my extensive nail varnish collection and I've been hopping around the internet for ideas.
Plisherrific
has some great ones, as well as some amazing reviews. The photography really has you lusting after all of the polishes too!
Stop by and leave Plisherrific some love!
Here's the optional LinkLove award - display it on your blog with pride, or don't! It's up to you! Past awardees feel free to steal it if you missed it last week!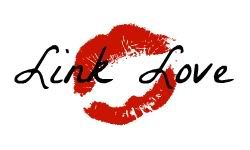 How is your week going? ♥