Hey lovelies. Today I've got another review for you, it's of the Nikon COOLPIX S3100 - but it's a little bit different because I don't have all that much good to say about it.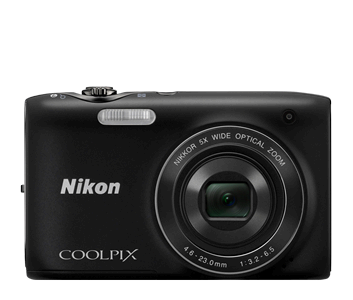 As a blogger, you're pretty much buggered without a camera. I felt so lost when my trusty 5 year old, 10 megapixel, Samsung SL102 camera was drunkenly dropped by a friend and died forever :( It was towards the end of term and I was running low on money but after trying to manage without a camera for a few weeks I gave up. Tony and I decided to split the price of a reasonably good, but inexpensive camera.
I had a look around and the best cost-to-megapixel camera seemed to be the Nikon Coolpix S3100 - for the black model it was £70 on Amazon. I've always heard good things about the Coolpix cameras and my mum had recently bought one to use for her
jewellery
photography.
I've had three major issues with this camera, as well as a bunch of little things too:
1. I was almost immediately disappointed when I started snapping photos because I noticed that they were coming out really dark. I'm not a camera whiz by any stretch, so I just tend to use the automatic scene detection mode and let the camera do all the complicated stuff. The auto setting on the camera leaves shadows around the edges of photos and almost all of my pictures needed some editing in iPhoto to lighten them up a bit.
2. There's some sort of odd compatibility issue between Nikon Coolpix cameras and iPhoto which frustrates me to no end because I LOVE iPhoto - it's such a simple and easy platform for editing photographs. I've been having to seriously muck about with my photos to remove the darkness and other weird and unwanted additions that the Coolpix likes to create, but for some reason only some of the edits will save. Sometimes I can edit a photo to death (I'm talking rotate, crop, highlights - nothing too fancy!) and it will save no problem, other times the file comes up as 0KB and just won't save the edits no matter how many times/methods I try. It had also on occasion happened when all I've done is rotated a photo the right way up, or auto corrected the brightness. I spent hours talking to an Apple Customer Support rep who was so helpful, even though nothing we tried worked. I've yet to uninstall/reinstall iPhoto because I can't find the disc - but that's the only thing left that I can try to fix the issue.
3. Possibly the most frustrating of all though, is what started to happen as soon as I got on holiday. My Samsung SL102 came with me on every Tortola trip before this - it was left in the sand, out in the sun, dropped in a pool (not a waterproof camera!), dropped on hard tile floor and suffered through so much more abuse - yet I never had a single issue with it. The Nikon Coolpix began to show signs of weakness almost immediately. The lens began to stick when closing and opening, which I can only assume was a reaction to the heat because this started to happen before it had it's first beach outing. After taking it to the beach and getting probably two grains of sand on it, the lens now sticks completely half way open.
Basically it's just over a month old, I've looked after it really carefully since it's so new and yet it's already broken. There's nothing more frustrating than being a blogger on holiday in paradise without a camera to document it all. Especially when it breaks before heading out to the hugest and most awesome LMFAO themed fancy dress pool party. HMPH :(
Does anyone else use this camera, or has had similar problems with Nikon and Mac? Is there a better one you can recommend? ♥